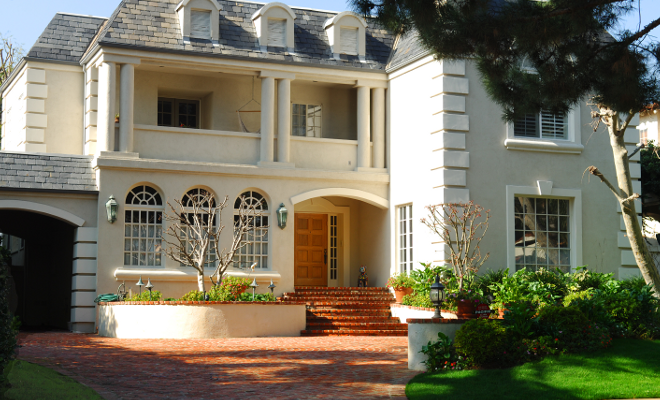 Bigstockphoto
Ashley Benson Hollywood Home
|
Ashley Benson is a young actress with an old soul. In 2012, she joined the ranks of young celebrity homeowners who are burning up the LA home market. At the time of purchase, the 22 year old actress acquired a 74 year old historic home – a house three and half times her age. Read on to see how the young actress rose to success and achieved so much, including home ownership.
Ashley Benson Talent Agency
Ashley Benson is one of those rare people quite simply born to be an entertainer. She was dancing, singing and acting beginning at age two and signed by the Ford Modeling Agency by the time she was eight. She became a well-known actress for her roles in both daytime and prime time television and she still models for the Ford agency (Ashley Benson IMDB).
She has made appearances in music videos, numerous commercials and magazines such as Maxim and Vogue with Britney Spears. Ashley Benson has appeared on the covers of Teen Vogue to promote her upcoming Springbreakers movie (April 2012) and Entertainment Weekly with her fellow cast mates of the wildly-popular TV series Pretty Little Liars (March 2013). That is a lot to accomplish by the age of 23.
Ashley Benson Actress
Ashely spent a successful three years on the daytime soap opera Days of Our Lives (2004-2007) as the character Abby Deveraux. During this period she made a number of guest appearances on other TV series such as The District (2002), West Wing (2002), Strong Medicine (2004), Zoey 101 (2005), 7th Heaven (2005), and The O.C. (2006).
Following more guest appearances on the prime time series CSI: Miami (2008) and Supernatural (2008), she took the role of Mia Torcoletti on Eastwick (2009-2010). Guest roles on How I Met Your Mother (2013) and Family Guy (2014) quickly followed (Ashley Benson IMDB). Her role as Hanna Marin on Pretty Little Liars (2010-2014) led to spin off appearances on Ravenswood (2013-2014).
In addition, Ashley has several movies under her belt, including 13 Going On 30 (2004), Bring It On: In It To Win It (2007), Fab Five: The Texas Cheerleader Scandal (2008), Christmas Cupid (2010), and Spring Breakers (2012).
Ashley won the Young Hollywood Award for Cast to Watch in 2011 and was nominated for Best Kiss at the MTV Movie Awards in 2014.
Ashley Benson Hollywood Home
On November 2012, at age of 22, Ashley Benson purchased a stunning home in Hollywood Hills for $2.2 million. Her French Normandy-style property was built in 1938. With 3,085 sq. ft., 3 bedrooms and 3.5 baths, the home is relatively small in comparison to other homes in the area. What it lacks in space, it makes up with amenities. The gated 2-story home features a wood-paneled library, a fireplace in the dining room, an updated kitchen with marble counters, coffered ceilings, a new pool and a spa in her home (LA Times). Ashley's home has a long list of former celebrity owners. The home was purchased from screenwriter-director Dan Harris, and was previously owned by Australian pop star Kylie Minogue and British singer Dave Stewart of the Eurythmics (80s music duo with Annie Lennox).
Ideal Ashley Benson Home
Ashley would fall in love with the historic homes in Baltimore and throughout Maryland. Whether she went with a French Normandy, Victorian or Georgian-style home, her 1930s-40s historic home would boast coffered ceilings, majestic crown moldings, and multiple fireplaces with stately mantles. Baltimore's Anton North neighborhood is an ideal location for a city girl like Ashley – to keep her close to the city's hot spots, restaurants, and nightlife.
Ashley Benson Hollywood Home recap: Are you impressed with Ashley Benson as a young homeowner in her early twenties? What features do you most love about historic homes?
Reach for the Stars!