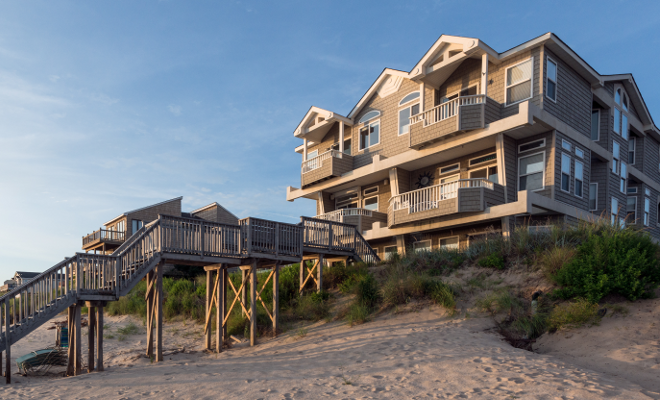 Bigstockphoto
Julia Louis-Dreyfus Beach House
|
Julia Louis-Dreyfus has enjoyed a wildly successful career from day one. She is one of the top earning women in comedy of awards and recognitions. Her natural comedic talent and quick-witted humor landed her a coveted role on Saturday Night Live in 1982 and she has gone on to be TV's all-time leader in comedy Emmy awards (Baltimore Sun). It is estimated that she made $13.2 million from Seinfeld for the 1997-98 season alone, and earns about $350,000 for each episode of her 2002-2003 sitcom Watching Ellie, along with her husband Brad Hall (Variety via NY Times). Success in her craft has earned great dividends. As a devout environmentalist, Julia decided to put her money where her mouth is – in regards to the extensive eco-friendly renovations made on her beachfront home in Montecito, California.
Julia Louis-Dreyfus Comedy Star
Julia Louis-Dreyfus was freshly graduated from college in 1982 when she landed a gig on Saturday Night Live (1982-2007) and remained there for 25 years. During those same years she was also in the wildly successful sitcom Seinfeld (1990-1998). From 2001-2008, Julia moved into voice acting as the voice of Gloria on the animated series The Simpsons (Julia Louis-Dreyfus IMDB).
She has definitely put her stamp on a number of other TV series including Day by Day (1988-1989), Watching Ellie (2002-2003), Arrested Development (2004-2005), Web Therapy (2010), The New Adventures of Old Christine (2006-2010), and her HBO hit series Veep (2012-2014). The HBO political satire in which Julia portrays Vice President Selina Meyer is filmed in Columbia, Maryland, just outside of Baltimore.
Julia Louis-Dreyfus Movies
Julia first appeared in Hannah (1982) and was in Christmas Vacation (1989). She has since done several TV movies including The Art of Being Nick (1986), All-Star 25th Birthday: Stars and Street Forever (1994), London Suite (1996), and Geppetto (2000).
She has frequently used her talent for voices in movies such as A Bug's Life (1988), Animal Farm (1999), and Planes (2013).
Julia Louis-Dreyfus Awards
Julia has been nominated for awards 40 times and has 21 wins under her belt over the years of her career. She won the Viewers for Quality Television Award for Best Supporting Actress (1992, 1993, 1994), Screen Actors Guild Awards (1995, 1997, 1998, 2014), American Comedy Awards (1993, 1994, 1995, 1997, 1998), Primetime Emmy Awards (1996, 2006, 2012, 2013), Golden Globe (1994), and a TV Land Award (2009). Julia was finally given her star on the Hollywood Walk of Fame in May 2010 (Julia Louis-Dreyfus IMDB).
Julia Louis-Dreyfus Beach House
Julia Louis-Dreyfus, long-time resident of Los Angeles, purchased a cozy 1930s beachfront bungalow in Montecito, California as a weekend retreat in 1996. The beach home is modest in size – only 3,000 sq. ft. with 4 bedrooms. Its features, besides its amazing beachfront location, have more to do with quality than quantity. In 2003, as a self-proclaimed "devout environmentalist," Julia enlisted the help of David Hertz (architect specializing in green design). Over the years, in the words of her architect David Hertz, Julia has given her beach retreat "a complete high-end environmental correctness." The small two-story home has energy-efficient appliances, rooftop photovoltaic, solar water heating, ample natural day lighting, sustainable hardwood flooring, and a retractable sunroof to draw hot air up and out of the home, also known as a thermal chimney. The home produces most of its own energy and the bulk of the pre-renovation materials were salvaged or donated.
Though the grand total of Julia's green renovation has not been explicitly revealed, I can tell you right now that it was very pricey! NY Times reported the retractable roof alone cost $15,000 and solar thermal and electric systems cost about $25,000. NY Times went on to say, "The idea is that those costs will be recouped in energy savings within nine years."
Ideal Julia Louis-Dreyfus Home
Julia would feel right at home in St. Michaels, Maryland. I think Julia would be more drawn to a historic 1920s-1930s vacation home, or even a mid-century modern home along the coast of the Chesapeake Bay. The home's green features should include sustainable hardwoods and solar water heating. Julia would most assuredly fall in love with the 19th century seaport vibe of St. Michaels. When not relaxing on the beach and enjoying the amazing views of St. Michaels Harbor, she would enjoy walking to the charming shops or restaurants nearby with her husband Brad Hall.
Julia Louis-Dreyfus Beach House recap: How much do you estimate her Montecito, California beachfront home cost in green renovations? If you could begin renovations on your home today, what aspect of your home would you change?
Reach for Your Goals!