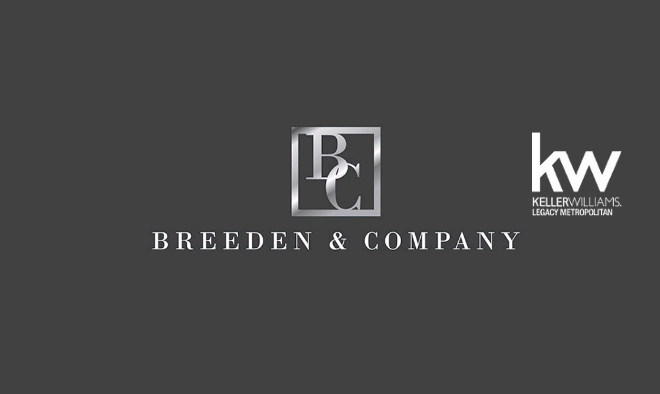 BREEDEN & COMPANY
Keller Williams Legacy Metropolitan
|
Breeden & Company of Keller Williams Legacy Metropolitan in Baltimore Md consists of a high-energy real estate team with a passion for Maryland real estate.  Our professional, savvy business model permits us to cater to clients' individual and specific needs.
Client satisfaction is paramount!
Breeden & Company's market expertise and superior negotiating skills set us apart from the rest.
BUYING PROPERTY IN BALTIMORE
For clients that are buying, Breeden & Company takes a keen interest in finding not only the ideal Maryland property, but one that is fairly priced, has minimal risk, and gives optimal return on your investment.  We offer the most comprehensive resources, services, and solutions available to make every transition as effortless as possible. Breeden & Company continues to provide assistance even after your "deal" has settled.
We have a common goal: "Turning Your Dream Into An Address" and making you a happy Maryland homeowner by giving prompt service, personal guidance, and professionalism from contract to settlement.
Together we can make it happen!
Services for buying property in Baltimore include:
Search Maryland listings from the convenience of your home
View new listings that match your criteria
Obtain "For Buyer" resources: latest tips, checklists, and free reports
Receive personal consultation from an agent with vast experience and reliable knowledge
Get financial advice regarding loans, mortgages, interest rates, and tax benefits
Access pertinent information about your "new" neighborhood
Know the processes involved in utility transfers and services
PROPERTY LISTINGS BALTIMORE
As for clients that are selling, Breeden & Company equips you with knowledge to prepare a property for the market. Our effective marketing strategy ensures maximum property exposure and minimum market time to bring in strong, solid offers from only qualified buyers.  Our knowledgeable agents give prompt service with the energy, enthusiasm, and excitement of a job well done.
For property listings Baltimore, Breeden & Company will provide:
Detailed home evaluation report
Advice on the best "market price" to list your home
Vast international and Baltimore listing exposure
Virtual tours to distinguish your Baltimore property listing
"For Sellers" resources which include latest tips, checklists, and free reports
Personal consultation backed with experience and knowledge you can rely on
Valuable relocation information — everything you need to know about your "new" neighborhood
Assistance with transferring utilities and services
If you are planning to list your Maryland home on the real estate market, please browse the Breeden & Company website for valuable property listing information. This incredible resource will help you to effectively prepare, price, and market your residential or commercial property, including tips on the inspection processes.
We are experienced and knowledgeable agents who are passionate about our jobs, love our neighborhoods, and keep up with the latest trends and strategies to benefit our clients. We provide you with a positive buying and selling experience by always giving prompt service, personal guidance, and professional competency throughout your experience.
Whether buying or selling in Maryland, Breeden & Company of Keller Williams Legacy Metropolitan in Baltimore Md provides you with the special attention one expects and deserves from a dedicated real estate professional. We are attentive professionals which consistently receive favorable testimonials. Clients consistently express gratitude for our enthusiasm, patient approach, professional demeanor, and unwavering loyalty.
Join the ranks of our many satisfied customers by letting us
"Turn Your Dreams Into an Address."
"I enjoyed working with R.J. Breeden. I would recommend him to anyone looking to purchase a home or even just explore the idea. R.J. made the process of buy my short sale property extremely smooth and easy. Having found my childhood home back on the market, R.J. helped me negotiate with the bank to get the best price. He has keep in contact since the sell and has help me coordinate home improvement services and suppliers."

Greg – White Marsh, Baltimore County
"We recently had the opportunity to work with R.J. Breeden in the selling of our home. R.J. gave us an accurate estimate of our home's value, worked diligently to sell it quickly for said value, and aided us in some other matters concerning its sale. We found him to be courteous, knowledgeable, and diligent in his dealings with us. R.J. Breeden receives our recommendation as a realtor."

Clement and Margaret – Baltimore MD 21224
Breeden & Company
Realtor®
Keller Williams Legacy Metropolitan
Office: (410) 342-4444
Cell: (410) 982-3761
Fax: (410) 342-0873
OH, By the way … We are never too busy for your referrals!